Are you thinking about visiting New York City? If you want to go off the beaten path, get off from land and go on the water then. Seeing NYC from a different perspective is what you'll get when you book a voyage with Circle Line Sightseeing Cruises.
What can you expect from the best Hudson River tour company in the country?
A tour-de-force by Circle Line
A two-hour tour with Circle Line Sightseeing Cruises covers all the bases. From the Hudson River, the boats head outward, and then take the a direct route to the East River, head northward, and then ends up on the other side of the Hudson River. A typical cruise brings tourists completely around the Hudson and under the Brooklyn Bridge, the Manhattan Bridge, and the George Washington Bridge.
Of course, you'll be cruising by the world-famous Statue of Liberty, and seeing the famous bridges of the Big Apple up close. But that is not all there is to see. You will be seeing many other famous sports in the city from a place that is not familiar with many other tourists. You will see New York City from all angles. Seeing the city from outside gives you a wider perspective, and gives you a better idea why NYC is one of the key tourist destinations in America today.

Beginnings
An unparalleled view of NYC landmarks
The iconic landmarks of NYC are hard to miss even if you're on the water. Some of these landmarks tower above the skyline, and a 90-minuted sightseeing cruise is quite enough to provide tourists with a unique perspective of what the city has to offer. There is no better place to see them from but Circle Line's state-of-the-art ships.
Seeing the Manhattan skyline from the Hudson River is quite exhilarating. Compared to seeing the sky-high buildings from the streets, or from an elevated view, looking at the impressive lineup of skyscrapers from a distant makes one appreciate the massive achievements in design, architecture, and engineering that they represent. Some of the important landmarks to see are the Empire State Building, the art-deco Chrysler Building, and World Trade Center's Freedom Tower.
The water cruise also brings tourists close to Ellis Island in Upper New York Bay, and a view of the National Museum of Immigration from the boat. The island is a part of the Statue of Liberty National Monument. The cruise brings tourists close to Liberty Island as well. Seeing the Statue of Liberty up close is an overwhelming experience for first-timers. The 93-metre tall Lady Liberty was a gift of France to the United Stated, which was bequeathed in 1886. While the statue is visible at quite a distance from other areas of the city, having an experience similar to the first immigrants that arrived in boatloads centuries ago makes tourists appreciate the very foundations of American culture.
Great service from experienced and professional Circle Line staff
Cruises by Circle Line run from one to three hours daily. All the boat of the cruise company leave from 42nd Street. Circle Line Sightseeing Cruises is an expert in hospitality. If you get very good seats they you will also be served with great drinks and delicious treats from a courteous and professional staff. A bar is available if you want to enjoy a variety of drinks while on tour.
The great service you will receive from cruise line employees is punctuated by knowledgeable and accommodating tour guides. An ongoing commentary keeps tourists informed of what they can see from the comfort of their seats. Live narration is available in English, but there is recorded narration in foreign languages, including French, German, Italian, Mandarin, Portuguese, and Spanish.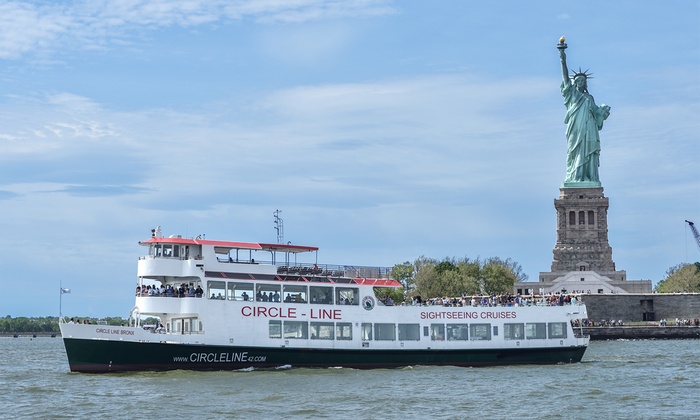 Some of the ship captains currently in service have been bringing tourists on boat rides for more than 10 years. Just because of the great service alone, booking a trip with Circle Line is highly recommended. Trip advisor gives Circle Line a 4 ½ out of 5 stars rating, FYI. If you can afford a VIP package, then you can expect premier seating and you won't have to endure long lines. Moreover, an outdoor patio area with dedicated waiting services is available to you.
In addition, you can save money if you are touring as a group or as a family. Circle Line bookings are included for free in City Pass, Explorer Pass, and New York Pass. Tourist passes are a great way to save money!
Check out Circle Line's "Best of NYC Cruise"
Circle Line's signature offer to NYC tourists brings you to the most important, must-see landmarks of the Big Apple. The inspiring views of Brooklyn Bridge, the Manhattan skyline, and the Statue of Liberty are enriched by award-winning guides. The route will take you to the New York City landmarks on your bucket list. Some of these are the elevated park known as High Line, the former immigrant port of Ellis Island, and the South Street Seaport in downtown Manhattan. Also featured in the "Best of NYC Cruise" are the United Nations Headquarters, the Grace Mansion, and the Yankee Stadium. This cruise gives you an unparalleled view of all 20 bridges in NYC and all three rivers spanning the city.
Be adventurous with Circle Line's "The Beast NYC"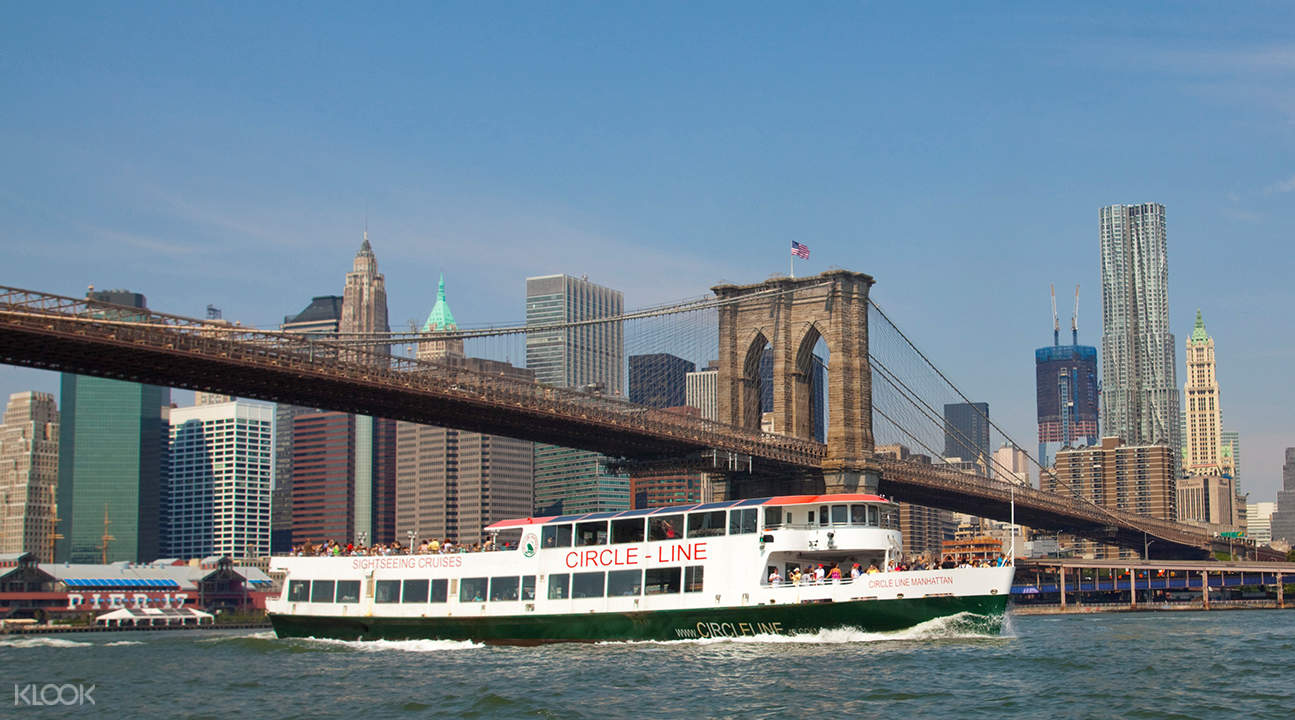 Circle Line has an offer to tourists who are looking for something that is more exciting and adventurous. Circle Line Sightseeing Cruises operates "The Beast NYC," which can be compared to taking a roller coaster ride for about 30 minutes. The jet powered speedboat experience is a unique way to experience New York City. It's a thrill ride power by twin Hamilton Jets, which allows for a maximum speed of 40 knots or about 45 mph. Be ready with a wetsuit or extra clothes in a waterproof bag. The Beast is a boat that rocket across the water. Expect to get wet! It is definitely an extreme experience, but it's one of the most fun attractions of New York City courtesy of Circle Line Sightseeing Cruises. You can reserve a boatful of tickets, or book The Beast for a private ride with your family and friends.
Expect only the best from Circle Line Sightseeing Cruises. Find out for yourself why the company is considered the best in New York City.

Beginnings